Introduction 
Greetings, music lovers! In this blog, authored by Collie and Niamh, we are going to chat about Irish songs and artists – not the ones that enjoy global fame, but those with which you may be less familiar. We want to take you down a musical road less traveled, but a very rewarding road nonetheless. Now- your faithful bloggers here, Collie and Niamh, do not necessarily share the same taste in music – although we do agree on a lot of must-listen-to stuff, but we are going to try and make this selection eclectic and fun for you. We will shortly be recording an ISAI podcast, and you'll get a chance to pop into our regular conversation about what we love in Irish culture. You can also read Collie's Movie blog here, and Niamh's poetry blog here. This blog will be updated as inspiration strikes us, and will have input from all the team here at the ISAI. This means the quality of writing and taste in music may fluctuate wildly. But the enthusiasm and a wish to spread the word about Irish music, whether new or just new to you, will remain a constant.
Collie here. It has always surprised me that The Cranberries became huge stars globally in the mid-nineties but that Irish bands Something Happens or The Frames, to name two, did not.
This is not to say The Cranberries didn't deserve their success, but strangely, they did not initially have the same fame in Ireland as they did abroad- and bands, like those mentioned above, were incredibly popular in Ireland, but never made the breakthrough elsewhere.There are hundreds of bands and thousands of songs that have lain under the radar, that we want to introduce to you. We have also included a spotify playlist with these songs and a few others- but we would say if you fall in love with some of these artists like we did, maybe go see them live, buy some merch or invest in some vinyl.   As is shown later, streaming don't play the bills.
OK HERE WE GO
Don't Believe A Word – Thin Lizzy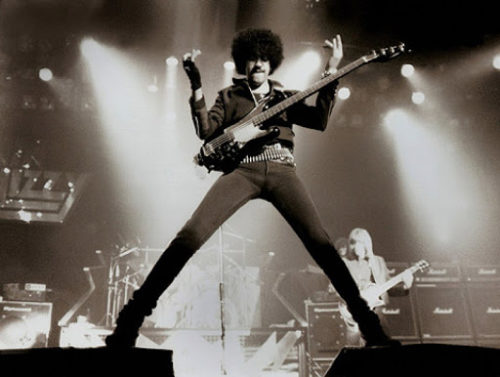 We've run the computer simulations, crunched the numbers, tested the data. There can be no doubt. Philip Parris Lynott is the coolest Irish man ever.  Tall, handsome, a sublime lyricist, vocalist and bassist, with a cheeky Dublin strut and a poet's soul, we are all agreed he is the Irish high priest of Rock and Roll.
Possibly a lot of you know the band Thin Lizzy. The Boys are back in town is the go-to soundtrack for every
movie montage and fight scene. Whiskey in the Jar is used in many a movie with an Irish background.
But there was so much more to this band, and Philo, then this. They could write a barnstorming 70s rocker like Boys, Chinatown or Jailbreak. There was also the sensitive poet who wrote Sarah, Still In Love With You or Parisienne Walkways. There was the man searching for his identity with Emerald or Ode to a Black Man.  His solo classic Old Town is Dublin's unofficial anthem.
My choice today however is Don't Believe A Word. A perfect combination of Lynott's nuanced lyrics with a scorching guitar riff.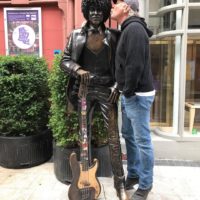 Lizzy super-fan Bono said this about it in legendary Irish rock journal Hot Press
I remember us trying to work out 'Don't Believe A Word' and I couldn't understand exactly what he meant. 'Don't believe me when I tell ya/Not a word of this is true/Don't believe me when I tell ya/I'm in love with you' – just a great lyric device. We tried playing that, just murdered that one.
Originally written as a ballad , most fans agree the faster track is the superior version. Why ?  You'd have to talk to song exploder for that, we just want to point you in the direction of a few tunes that we hope you enjoy. We don't want to over-analyse the process and forget why we wrote this blog. .
Besides, we can't top this comment from YouTube
"Alright boys, we'd like a perfect rock song with some meaningful words and a great guitar solo and…er….by the way you have to fit it all in in 2 mins and 20 secs – fecking brilliant!"

Also check out
Murphy's Law – Róisín Murphy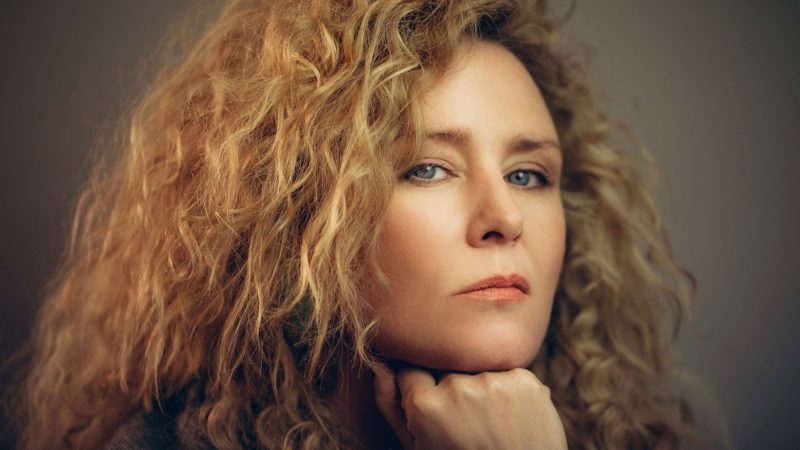 I would imagine when you think of Irish music you don't think of the club scene.
But Róisín Murphy has been packing dance floors all over the world for 25 years. Róisín (Roh-sheen) is from Arklow Co. Wicklow. She moved to England in her teens and in 1994 formed trip-hop band Moloko who had massive hits with Sing It Back and The Time Is Now.  She went solo in 2005 and hasn't looked back since.
Described as Ireland's queen of the avant-garde, her amazing voice, daring fashion sense and effortless cool has made her the darling of the club scene and a mainstay of hip radio stations like 6music. All while keeping her wicked Irish sense of humour. At Glastonbury introducing one of her hits she called out, "Come and have a dance with your mum" before cutting a rug.
I for one am a dyed-in-the-wool rocker but there is something about Murphy's music that makes me get my dance on. And in her late 40's she might just be producing the best work of her career.
She seems to be releasing  stone cold banger after stone cold banger.  Murphy's law, her new single is an instant classic. But we could have put in Narcissus or Incapable. All have rare quality of sounding both cutting edge and like a disco classic.
So if I've piqued your interest why not have a listen. After all , the time is now.
Also check out
Wired to the Moon – The Revs
How about something a bit more local? The Revs hailed from Kilcar near Sliabh Liag and burst onto the scene at the start of the Millennium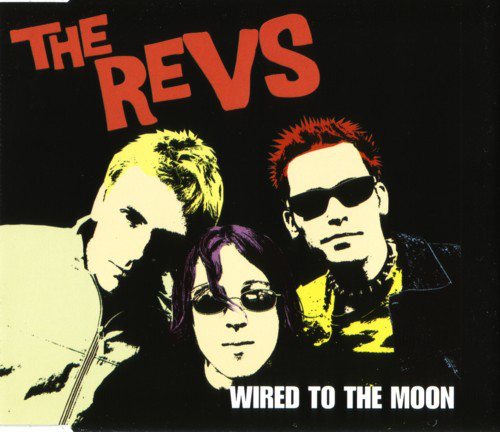 with catchy, witty surf-rock style. As a matter of fact, we brought our summer camp to one of their early gigs so I'm sure there are a few attics and basements in the U.S. with dusty Revs merch.
While far from one hit wonders, they are best remembered for the debut single Wired to the Moon, the video for which was filmed right here in Bundoran. It's an instant ear-worm with perhaps questionable lyrics, and scandalously not on Spotify or apple music.
The band made three albums before calling it a day. Lead singer Rory Gallagher (no relation but absolutely named after the great man) popped up again with the cult hit Jimmy's Winning Matches to celebrate Donegal's all Ireland victory in 2012.
A well-reviewed reunion show in 2017 means we may hear more for them. Rory ran a very successful music pub in Lanzarote for years and is just about to open a music bar in Edinburgh. Drop in when everything is open again and tell him we sent you.
Also check out
Heyday – Mic Christopher
Bill Hicks might not approve but the next song was brought to you courtesy of an advertising campaign. Mic Christopher was an American born Irish singer. Admired on the Irish music scene, his band The Mary Janes never had a breakthrough hit despite touring widely. Upon their breakup Mic went solo and seemed on the verge of something really special when he tragically passed away after a fall while touring with The Waterboys.  His family and friends helped finish off his solo album Skylarkin and release it. It won industry awards and sold well.
However to many of us it only came to the attention of many of us when the brilliant Heyday was used in the iconic Guinness ad "Quarrel"
In the ad, Michael Fassbender, strides across Ireland and makes his way to New York to say the hardest word.  It was an instant hit with those who love the black stuff, great music and brooding handsome, troubled Irish men. Yeah basically everyone.
Damien Rice's album O is dedicated to Mic and his music has become a mainstay of The Frames set list. It's sad to ponder what could have been. Perhaps that's why his music was such a brilliant choice for the ad. A soundtrack for someone wanting to make amends before it was too late. There is a new documentary coming out about Mic's life that will hopefully reintroduce the world to his music. Perhaps he will have his heyday at last.
Jealous – Sinéad O' Connor

Sinéad O' Connor is better than you think she is.  Sure, you say "I love Sinéad  – Nothing Compares 2 U, Mandinka, the one about the babies…?  Or maybe "Yeah she can sing but remember that fuss with the Pope and Frank Sinatra and the Muslim stuff…she's kinda hard work". Fair enough. I personally am totally guilty of expressing this sentiment in the past. And I guess we're all entitled to our opinions. But Sinéad O Connor is better than you think she is.
Like Lizzy, there are so many songs we could talk about. I was very tempted to say Troy which is criminally underrated. I just don't have the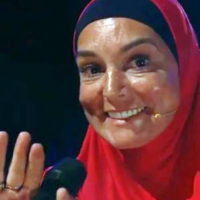 literary chops though. We'll have to wait for Dr Niamho for that one next time we talk about Sinéad's back catalogue. Instead I like to visit the album Faith and Courage from 2000.
I clearly remember being in a record store in Dublin (ask your parents) and marching up to the counter and asking to buy whatever they were playing on the sound system. The song was the slightly NSFW "Daddy I'm fine" from the album Faith and Courage. Memory plays tricks at this point.  Sinéad is so distinctive and had been mega-famous in Ireland for over a decade I must have known it was her. But I don't think I'd ever heard her sound like this. I brought the album home (again, ask your parents) and listened to it. There are several excellent songs on it, No Man's Woman, Dancing Lessons, Daddy I'm fine. But the song that has stuck with me is Jealous.
Jealous
Sineád breaks our hearts again describing longing and toxic relationships in this poignant torch song. Maybe it's because her personal life and struggles with mental health have been played out in public, but her fragile , beautiful voice make you feel she has lived every blow and cruelty in the song.
After some dark times, Sinéad is back touring again and seems at peace and happy.
And if you know her battles with authority here and elsewhere , there is something triumphant when you here the crowd roar in triumph when she performs The Emperor's New Clothes and belts out
"They laugh 'cause they know they're untouchable
Not because what I said was wrong"
But after all,  Sinéad O Connor is better than you think she is.
Also check out
Dance of the Cherry Trees by John Spillane
This one will never make it past Institute of Study Abroad blog quality control. This is more an ear-worm than a Desert Island disc.
John Spillane is an Irish folk singer and Irish language advocate.
After starting off in rock and jazz bands adopting a mid-Atlantic drawl, he returned to his true love, traditional Irish music . He has made several albums of traditional Irish songs but he also releases quirky, funny folk songs all in his distinctive Cork accent.
However, this charming little song has been in my head recently.
Writing this in the time of the lockdown, there is so much anger, fear and uncertainty. Yet it's a beautiful spring day and all week I've been reading about the extraordinary efforts of ordinary people. Kindness and empathy abound. I'm very proud of how our island have clubbed together so far under this challenge. I guess I'm saying, 'well done everyone'.
Emer's Dream – Colm Mac Con Iomaire
Colm Mac Con Iomaire is one of Ireland's most respected musicians. He plays violin and sings with The Frames, is a founding member of Kila and is world famous session musician (Playing on honorary Irish man David Gray's classic White Ladder among others.)
His first solo album The Hare's Corner was introduced to me by my friends Niall and Aideen. Niall is a big fan of hardcore punk music, but also loves traditional Irish ballads. Aideen adored Morrissey (pre his recent statements, I hasten to add),  and Abba. We were touring the beautiful Gleniff horseshoe and they told me they had the perfect soundtrack for the scenery. Curious to hear what kind of music united their very different tastes,  I put the record on.
It was as if the music had been composed by the mountains and streams themselves. It was brilliant modern music, yet it had a timeless quality, and provided the perfect soundtrack for  Toraíocht Diarmuid and Gráinne – 'The pursuit of Diarmuid and Gráinne' – a famous Irish legend. It was said that the eloping couple spent their first night together in the cave gouged into the side of the Gleniff Horseshoe.
The whole album is great, but the standout track is Emer's Dream, a lush and evocative piece of violin  that calms a raging mind.
Also check out
Pull Your Jocks up / God Slap  – The Scratch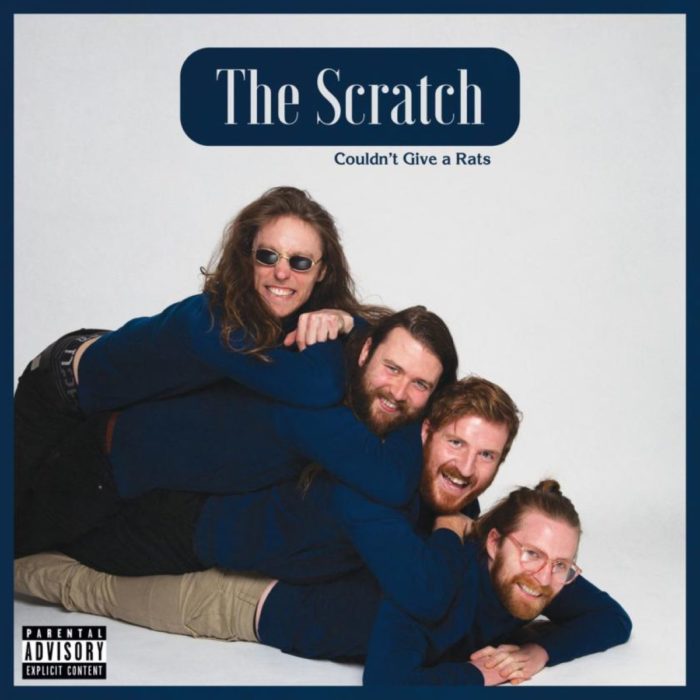 By far the newest band here so far, The Scratch are a 4-piece acoustic act from Dublin. They were forged from from a shared love of acoustic guitar, metal and traditional Irish music, and not giving a damn what anyone thinks.  Their debut album is literally called Couldn't Give a Rats.
Full of brilliant musicianship, offbeat themes and lots of attitude, The Scratch are part of a really interesting movement in Irish music at the moment. Musicians that take their influences from all over the globe. Musicians who see no problem with the juxtaposition of hiphop and Sean-nós, high art and pop-culture, heavy metal and trad music, politics and bawdy Irish humor . A Lazarus Soul, Junior Brother,  Lankum, Ballyboyz and the Rubber Bandits to name a few .
The Scratch won't be for everyone and a lot of it is definitely for adult ears only (really!). I'm definitely a convert though. I only heard of them for the first time on Easter Sunday. I decided to give the album a try on Spotify, by the fourth song I was looking for tickets for their next gig.
Also check out
Jenny Kelly / Tie Me Up With Jackets
– Fight Like Apes
One of the common themes of conversation during the Covid 19 lockdown in Ireland, is that modern technology has made shelter-in-place a little more tolerable.  We are lucky to be alive in a time when all sorts of streaming services bringing us instant entertainment, and almost every song ever recorded is available at the push of a button or by asking Alexa. Yet there is a downside too, and the Irish band  Fight Like Apes  were one of the first to make me see it.
Fight Like Apes always stood out in Ireland's small but talent-filled music scene. They claimed to have formed over a shared "extremely optimistically cynical outlook on life".  And boy, did they show it.
Their mix of synth-pop meets rock, showcasing a love of B-movies, computer games and wrestling, was quite the contrast to the moody, introspective singer songwriters that dominated. I love Damien Rice as much as the next man, but I don't see him releasing an album with  Do You Karate? ,  I'm Beginning to Think You Prefer Beverly Hills 90210 to Me , or  Recyclable Ass ! 
They wrote infectious tunes with funny, poignant and often quite rude lyrics,  and lead singer MayKay was one of Ireland's great front women.
The music was great, and won them many notable fans, including The Prodigy, Steve Lamaq and Jonathan Ross. They released three well reviewed albums and seemed on the brink of a breakthrough. But it was not to be.
In 2016 they announced their breakup with this statement on their Facebook page
″Stick a fork in us, we're done. We've been quiet for a while now. We've had a lot of thinking and talking to do. We'd be here all year if we started listing the people we wanted to thank, so we'll just do that in our own time. You'll see us all again under different musical guises but, these 3 shows will be Fight Like Apes' last. We want to call it a day while we're all still pals and are proud of what we've done. And we are very, very proud. It's a deadly time in so many ways to be in a band; you can have so much control over your work if you're clever; you can release it how and when you like and in our opinion, right now, Ireland is the healthiest it's ever been in terms of talent and diversity.
But, there are massive challenges for a lot of bands, mostly financial, that make this a tough job and sadly, those obstacles have become too big for us. I think we all know that we're going to hear announcements like this more often. A lot of people don't seem to understand that we can't keep producing records if you keep not paying for them. Bands are having to sell beautiful albums for €2.99, labels can't give you as much support since they're losing income too and our alternative radio stations* are practically non existent now, meaning so many wonderful bands will not get a chance to get played on radio as they'll be competing with huge pop acts. Please buy your music in independent record stores or directly from the band. Don't fool yourself in to thinking that your £10 subscription to Deezer and Spotify helps us at all. It does not. Look how many bands are on there and do the maths. Please go to gigs. Please buy merch. Thanks to all you entirely crazy, wonderful people who have supported us and danced and screamed with us over the past 10 years. We could never thank you enough. I still can't believe some of the amazing things we've done together and how far we came.″
Maybe Ireland was always too small a market for such a unique band. But I can't help but think in other times there would have been enough support for them to stick it out. And they are a timely reminder that free music doesn't mean there is no cost.
Also Check Out
 You I'm Thinking Of – Relish
Ken and Carl Papenfus formed Relish with Darren Campbell in Downpatrick in the late 90s. The brothers were the sons of famous South African musician Jane Londis and author and percussionist Stan Papenfus. Jane and Stan's  interracial marriage was banned by the apartheid system,
so they fled to Belfast in the early 70s. Not the place at that time one would have immediately thought of for refuge, but their decision gave us two mega-talented Irish musicians and one of my all time favourite Irish singles.
It's you I'm thinking of is a pure slice of pop perfection. Summery laid-back romantic sounds with lovely harmonies that brings to mind Minnie Ripperton and Paul Weller.  The band were probably best known for "Hey Whatever" the slightly altered Westlife cover version of their "Rainbow Zephyr"
Despite some excellent reviews the band never really hit the heights. Campbell left the band in 2013. The brothers Papenfus are probably best known now as very successful touring musicians, playing with Sinéad O Connor and Paul Brady and writing and playing on the wonderful Sing Street movie soundtrack.  But the band are still touring and releasing excellent music and are well worth catching if you get the chance.
Also Check Out
 In a Little While – U2
It often surprises US visitors how divisive Irish opinion is on U2. The reasons why are worthy of an undergraduate course by itself. Let's just say Irish people see nothing contradictory in being immensely proud of and deeply annoyed by the Dublin band. Often at the same time.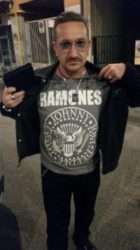 U2 need no introduction but casual fans may be less familiar with this gem from All you can't leave behind.  It's a love song written by Bono for his wife Ali (the pram reference alludes to the teasing he got for dating Ali, despite her being a year younger)  However when performing it live , Bono often talks about how one of his personal heroes, Joey Ramone,  loved it and that it was the last song the punk icon ever heard. It's also a good reminder that while nobody does stadium fist-pumping anthems quite like U2, they can do small and beautiful too.
Also Check Out
Long Balconies – A Lazarus Soul

2019 was a strong year for Irish Albums. Along with Fontaines DC's debut album Dogrel, (which we will definitely cover in the future), we had The D they put between the R & L. This was the fourth album by A Lazarus Soul but the first time they came to my notice. The album got rave reviews and they played a string of sold-out shows.
Brian Branigan is the heart of the band. Nicknamed Lazarus by his mother because of two severe childhood illnesses, he uses music to give voice to many of the oppressed of his native Dublin. This particular song is about social housing and the gentrification of Dublin. Full of traditional and modern references, A Lazarus Soul is another example of the big Irish crossover scene between folk music, pop and hip-hop sensibilities.
A mishmash that, judged on the ingredients, could have been terrible but somehow really works. But I guess when you think about it, Woody Guthrie, Christy Moore and Chuck D have always had a lot in common. The album may be a little bit of an acquired taste but embrace it, and like me, you might just find yourself returning to it again and again.
Also Check Out
Switch – Biig Piig
A lot of this list is about music you may have missed at time of release, but here is one to catch at the start of her career. Biig Piig is Jess Smyth, a London based Irish singer and rapper who was born in Spain. The name was apparently inspired by a pizza menu. She says it's
ambiguity suits her. Nobody quite knows what to expect and that is the way she likes it.  She can be a mess or cute depending on her mood.
Her work is nearly as diverse as her upbringing, with thick hip hop beats, western guitars, swing and anything else you care to throw in. She's already released three very interesting EPs and is tipped to be big (Biig?) by all those in the know. However, it is her brand-new single Switch (March 2020)  that has really got my attention. It's going to be fun to see what she does next.
Also Check Out
I fall Apart – Rory Gallagher
Regular visitors to Institute of Study Abroad may already be familiar with Rory Gallagher. Many of our tours include our neighbouring town of  Ballyshannon, and we often stop for a photo beside the Rory statue. After learning a little of the Ballyshannon-born rocker's history, they often learn forward with a conspiratorial whisper and say, "I didn't realise he was such a big deal"  Let me be honest with you, dear reader, neither did I.
Growing up a rock fan in Dublin in the 80s and 90s, I was only vaguely familiar with Rory Gallagher's music. He's the blues guitar guy that's big in Germany, right?  Maybe it was because Rory was all about the music and was deeply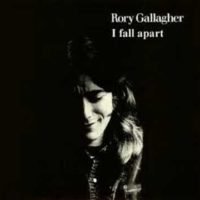 suspicious of celebrity. Maybe it was the arrogance of youth, thinking the bands of our generation were the best, or most daring, as if they had appeared out of the ether. As if they weren't standing on the shoulders of giants. Whatever the reason, it was only the outpouring of grief after his premature death in 1995 and my subsequent exposure to the Rory Gallagher festival in Ballyshannon that the penny really dropped for me.
Rory Gallagher was born In Ballyshannon in 1948 on March 2nd. A birth date shared, incidentally, with Lou Reed, Jon Bon Jovi and Dr Niamh Hamill. Raised in Cork, he first came to prominence with Irish showband Fontana, then with acclaimed Taste. A trio to give Cream a run for their money.
But it was when he went solo that Rory really found his voice. In the 70s he released a string of successful albums and was invited to join The Rolling Stones. But that would have been too showbiz for Rory. He wanted to play his own music. And when Slash, Brian May, Alex Lifeson, Johnny Marr and The Edge all count you as a major influence you are doing the right thing. Eric Clapton credited him as the guy who got him back into Blues.
To learn more about Rory, check out the website, the treasure trove of material on YouTube or better still come to Rory Gallagher festival – 3 days of fun, friendship and exceptional guitar playing.  Rory is usually best known for his foot stomping rockers but the song I have selected is a slow one. A slice of blues ballad brilliance that showcases his guitar playing of course but also his underrated singing. There are quite a few versions available, but for sound quality I have chosen this one from his debut solo album.
Also Check Out
Dearg Doom – Horslips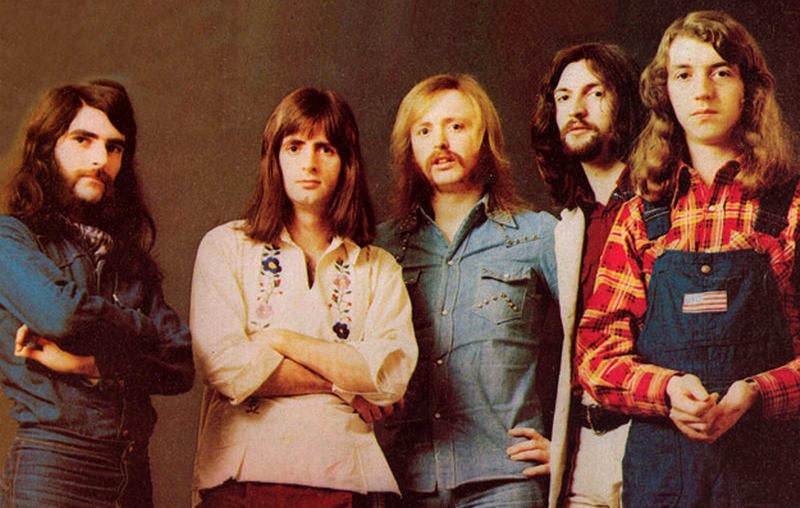 The most recognizable guitar riff in Irish music, Bar none.  From the original song to its use as Ireland's word cup anthem, a McDonalds ad and a band reunion, that distinctive Celtic loop has been ubiquitous in Irish media for nearly 50 years.
But first a story my friend Enda told me. Its small-town Ireland in the grey 1970s. Paddy & Mick, two auld boys are in the pub. They are discussing the band that are playing in the village dancehall. All long hair, loud music and arrogance, the boys don't approve at all. Still they are curious and decide to head to the hall. They know the guy on the door and convince him to let them in just as the encore begins. Just as the band reached their crescendo the firework display was ignited. Paddy leans towards his friend and says knowingly "That'll be all the drugs going off"
Ok it is almost certainly an apocryphal tale. I am sure there are versions of the story with Slade in Wigan or Kiss scandalizing small town America. But the point of the impact of Horslips holds still. Yes, we had Lizzy and Rory and Van, but they were Irish people who played rock music. Horslips combined Celtic instruments and traditions with rock tunes, elaborate costumes and rock star swagger. And did this while staying and playing all over Ireland, creating the template for U2 to do the same.
Horslips formed in Dublin at the start of the 70s. They got their name from a spoonerism for the Four Horsemen of the apocalypse, (They were originally The Four Poxmen of the Horslypse). Already accomplished musicians and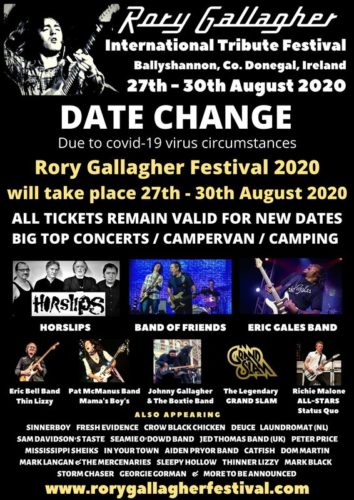 poets, they wanted to do it all. Put their own uniquely Irish stamp on rock, but also design their own record sleeves, stage wear and posters. Led Zeppelin and Yes were mining mysticism and mythology for their material, why couldn't they? Ireland had a rich vein of such stories, waiting to be tapped.
That and a willingness to never take themselves too seriously (unlike some prog rock peers) made them Ireland's hottest ticket.
Dearg Doom is from their second album, The Táin. It was based on the Táin Bó Cúailnge (The Cattle Raid of Cooley), one of the most famous legends of early Irish literature, dealing with the war between Ulster and Connacht over a prize bull.
Dearg Doom is kind of pidgin Gaelic for Red Destroyer, referring to Cú Chulainn legendary Irish warrior. You can read more about the Táin here, it's a brilliant story full of weird and wonderful characters and a lot of hyperbole. But to be honest, a lot of Irish people grew up loving the tune without knowing what the hell they were referring to.
That tune is based on a traditional tune, O'Neill's Cavalry. Played on electric guitar, mandolin and uilleann pipes, it is one of the most recognisable riffs in modern Irish music. It became even more famous, if possible, when it was used by Larry Mullen JR as the hook in "Put em under pressure" the official theme song for Ireland's iconic 1990 soccer world cup campaign.
Despite some European success the band were never quite able to build on their platform and broke up in the 90s.  Happily, the band reformed at the start of the century and gig regularly to this day. In fact, they are going to be headlining the next Rory Gallagher festival in neighbouring Ballyshannon whenever we can start such things again.
Norman and Norma – The Divine Comedy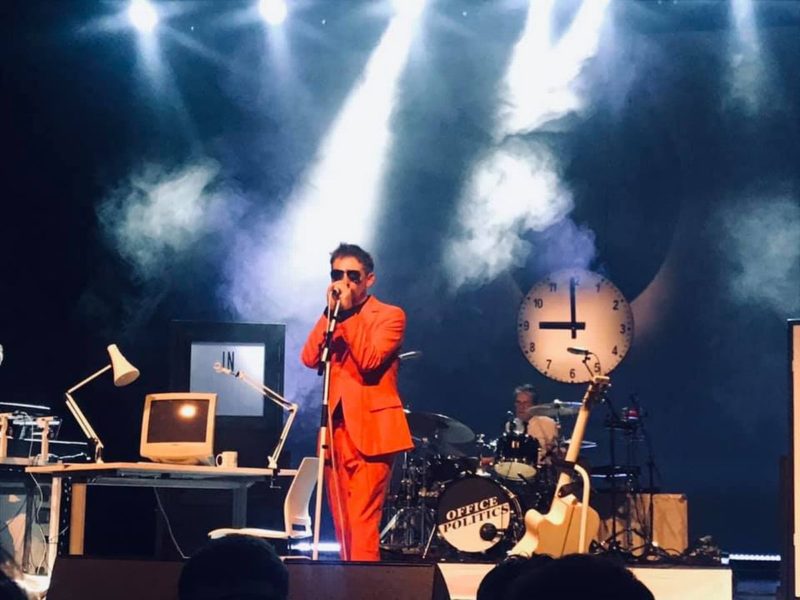 Recently we were discussing the sad demise of Adam Schlesinger, the genius behind many of Fountains of Wayne hits. The songs are great, but what stood out for us were the quirkiness of the subject matters and the attention to detail that made the protagonists in their songs feel so real. They didn't write songs about limos and clubs. Nor even clichés about pickup trucks and low life bars.  They noticed the little things, like the misleading gift shop mugs or waiting for your bags to turn up at the luggage carousel. Richie & Reuben looking for a loan or the cheesy morning show news report. Things that are so quintessentially American yet ring so true to someone listening in rural Ireland.
In the conversation, we reckoned the only comparable band we knew of was The Divine Comedy.
Divine Comedy sound very different to Fountains of Wayne and their song subjects are much more about the middle-class UK / Irish experience. Their most recent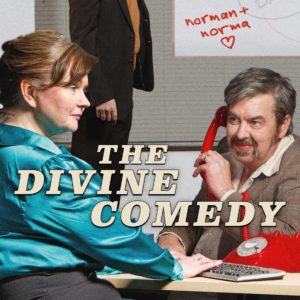 album is a concept album about working in a small suburban office. Still those little turns of phrase, and unusual takes on love songs is what makes me think they are spiritual soul mates.  And vitally both realise you can have the cleverest lyrics of all time, but it doesn't work unless you have the tunes to go along with it.
The Divine Comedy is really the brainchild of Neil Hannon from Enniskillen in Northern Ireland. He writes and plays on nearly all the songs, but he has collaborated with various other musicians in different incarnations of the band.  It is comparable to Eels where E is the driving force but has used a revolving cast of band members to experiment with different styles and genres.
They have had many hits – National Express (about getting a cross country bus) Everyone Knows I love you – as well as composing the theme songs for Father Ted and The I.T. Crowd. But the song I want to direct your attention too is Norman and Norma , a minor hit from their most recent album.
Norman and Norma is a three act love story about a suburban couple who start married life in a whirlwind of romance but find that real life gets in the way a little bit. Once the kids are grown up, they find life together uninspiring.
"Twenty years on and the children have gone
And they're both at a bit of a loss
They've tried salsa classes and growing tomatoes
But nothing is getting them off"
The son of a bishop who had a private education, Hannon has often been accused of sneering at lower classes, but I think that is unfair. Like FOW I think he's an observational writer. He just notices the small quirks in middle class behaviour that illustrate his characters beautifully. When in National Express when he talks about the man
"Manhandling the pram with paternal pride" or the hostess who's seen better days
"Mini-skirts were in style when she danced down the aisle
Back in '63 (yeah, yeah, yeah, yeah)
But it's hard to get by when your arse is the size
Of a small country"
I never felt he was looking at these people in contempt. Rather that he was people watching and enjoying describing the diverse slice of life that a fills a cross country bus in any country.
For example, I had never heard of Cromer where Norma and Norman go on holidays and get pneumonia nor indeed Clackton where they find a medieval battle re-enactment. But listening to the song I knew exactly what sort of places they were.
The first time I heard the song my radio cut out just as we got to the crucial third verse. I was distraught. Surely there was a happy ending for our suburban couple. I had to pull over and listen to the denouement on Spotify. I had already fallen in love with Norman and Norma. I hope you do too.
Ps honourable mention for being the only pop song so far that mentions the name Niamh.
You might also enjoy 
(How can you leave me on my own, the video where Neil predicts how I would cope with Lockdown) 
Dual Citizenship – Denise Chaila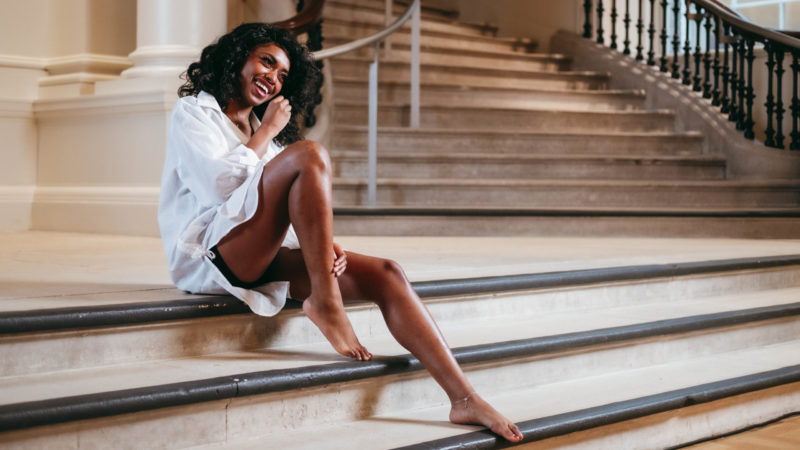 Sometimes you hear a song and think "My God, they are writing about my life" Sometimes you hear someone and go "Oh my God is that me? Have I done that?" I felt like this when I heard Duel Citzenship by Denise Chaila for the first time.
The impact was doubled due to the fact I was watching a clip of her Other Voices show. Other Voices is a renowned show here in Ireland. The gigs are usually intimate, but this new lockdown series even more so. Somehow socially distanced film in the National Gallery of Ireland was even more striking. A rare combination of confidence and righteous anger with emotion and vulnerability made this compelling viewing for me. I found the songs thrilling and challenging. The spoken word pieces moving and raw.
Hip hop in general and the burgeoning Irish scene in particular would be weak areas for me. Nonetheless I was immediately hooked. Denise Chaila was born in Zambia and raised in Ireland. This means all her life people have looked to pigeonhole her. Is she African or Irish, why the American accent ? is she a "female" rapper? She throws these questions back at us while staking a claim for exactly what she is. She is Denise Chaila. Take note of the name.
You might also enjoy
Parachute – Something Happens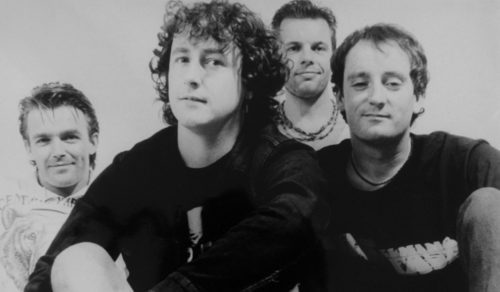 Sometimes you can over-complicate things. Since I was asked to this I knew at some stage or another I would talk about Something Happens and I wondered what song I would choose.
Maybe Beach from the first album or Burn Clear. Maybe Kill the Roses or Brand-New God?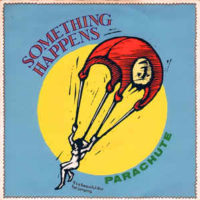 But then I realised, I'm going about this all the wrong way. Recommending deep cuts is cool for Van or Sinéad. But the whole mystery about Something Happens is that despite realising a ton of great pop rock singles is that they never quite made that international breakthrough.
So why not just go for their most popular song.
Parachute was a single from their second album and remains a mainstay of Irish radio today. A light-hearted love song with a catchy hook, parachute isn't their greatest song but is a tremendous slice of summery fun and a great introduction to the band.
The Happens as they are known remain very popular in Ireland and despite splitting in the 1990s often reform for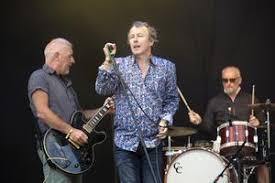 shows. They are a great live act renowned for their witty crowd interactions and cover versions as well as originals – Madonna's Borderline was a particular favourite. Their first two albums Been There, Seen That and Stuck Together with God's Glue are the best but there is fun to be had in all their records. Indeed, on Spotify, Momentary Thing from their fourth, often overlooked album Planet Fabulous is their 3rd most popular song. But I think that might be more to do with it being the song to which Veronica Mars and Logan first kiss. A great choice too. After all what better than an underrated song by our most underrated band to soundtrack a moment in one of the most underrated TV shows of all time.
You might also enjoy
Some Surprise – The Cake Sale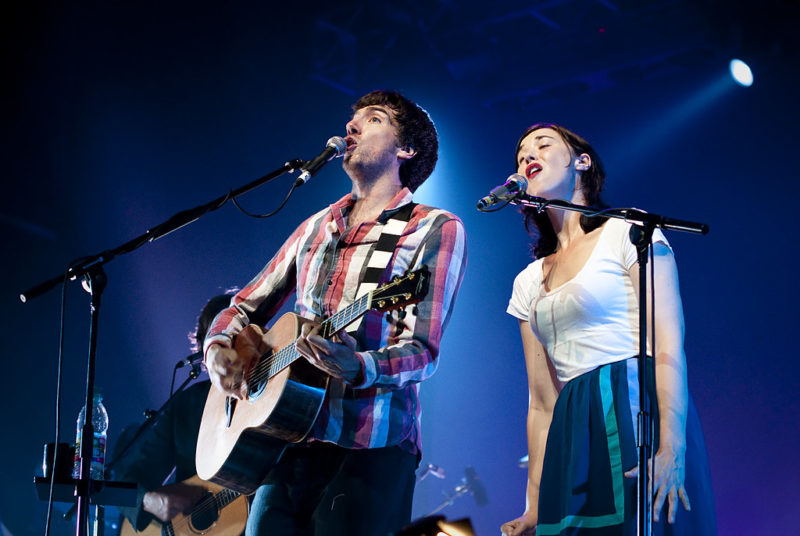 Another song featured on a US TV show was Some Surprise by The Cake Sale. This time on Grey's Anatomy. The Irish music scene has been a rich seam of talent for the show, they have used Bell X-1., Damien Rice, Roisín Murphy and Kodaline among others in the past.
The Cake Sale is a 2006 charity album for Oxfam Fair Trade involving a group of Irish and international musicians. Some the artists include the aforementioned Bell X-1, Neil Hannon, Glen Hansard and Nina Pearson.  (A Cake sale is the Irish equivalent of a Bake sale.) This particular track is a duet between Gary Lightbody from Snow Patrol and Lisa Hannigan but like all songs, it is just billed as being from The Cake Sale.
When I first heard this warm embrace of a song, I assumed it was a cover version. It's pretty common to do a cover on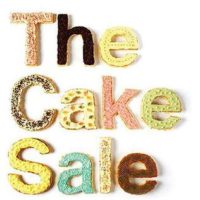 a charity album and let's face it, even the very generous don't usually give their top-notch stuff away for free.   Perhaps it was an old Dylan deep cut or maybe, given the use of slide guitar on the song, a country classic I did not know.
But yet again I was wrong. Kinda.  It was an original song written by Paul Noonan of Bell X-1. He was originally going to sing it himself but decided the duet worked better. Incidentally all of the performers are singer/ songwriters performing each other's tracks. Glen Hansard performs an Ollie Cole (Turn) Song, Gemma Hayes sings a Glen Hansard composition. Only one song is actually sung by its author.
The lush production and Still Crazy After All These Years vibe meant I was always bound to like it. But it's Lisa Hannigan singing the second verse that made me love it. For some reason Lisa singing
I was never one of the boys
Throwing shapes and power ploys
Works even better than if the were sung by a man as intended.  Hannigan who first came to prominence due to her work  with Damien Rice but is now firmly established in her own right, brings an all-enveloping intensity to everything she does. When I saw this recent sketch by James Corden about the smouldering romance in Normal People, I thought of her.  Surely, she would have been a shoo-in for Marianne if it were made a few years earlier?
The song got a reasonable amount of airplay at the time and there was a great live performance at the Irish equivalent of the Grammys. However, a plan to stage a series of concerts proved too complicated, given some many artists and tight schedules.  I'm not sure the song is played much on the radio anymore, but it always brings a smile to my face when I hear it. Hopefully, you will find this a pleasant surprise too.
Song from Hope Street [Brooklyn, New York] – David Kitt
There is a humorous trail running for Guy Garvey's (Elbow Frontman)  excellent 6Music show at the moment. Pre-recorded, he recounts all the exotic places he has recorded the show. But sometimes he just did at home in his pyjamas. This used to be a luxury of having a home studio, he laments but now in post covid world the norm for everyone.
This is how I feel about David Kitt's album. I remember hearing it and his debut album small moments in 2001 and loving the lo-fi, home recorded vibe. Nowadays people can run whole empires with a laptop and a half decent wifi connection.
But at the time it seemed really new and fresh. I'm sure others can point to earlier examples, but I hadn't heard an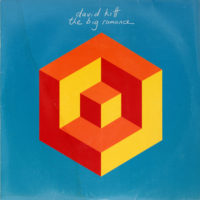 Irish person composing music like this. Earnest, shamelessly romantic yet sung with a world-weary whispery sigh. The contrast between the optimism and the slow beat. The lovely melodies and the slightly monotone voice.
His first EP was recorded in his bedroom while studying Musical Technology at Trinity. The Big Romance had the same feel although it was a major label release.
Kittser came from a long line of musicians and politicians. I think we're all glad he chose the part of the family tree to follow that he did, ( although he has made headlines here too for political statements from time to time.) But it's for his line of bedsit love songs that he's most famous.
There is plenty more to enjoy in Kittser's back catalogue whether as a solo artist or part of Tindersticks. I even like Square One his much maligned "In Love" album. But for me, The Big Romance is an all-time Irish classic. You know what I want to know was the hit from the album, but I have plumped for "Song from Hope St the first release from the album. This was my first introduction to his music and it's a great entry point.
You might also enjoy
Lets do a few quick ones.
 This is why we lose control – The Young Offenders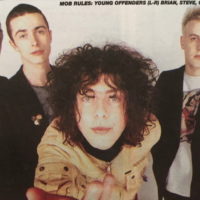 The Young Offenders is a successful and very funny movie and TV series that we will undoubtedly get around to reviewing on the film blog at some stage. However, while talking about it, it reminded of the band of the same name. They burst onto the scene amid much hype, released a couple of great songs, became disillusioned with the music business, and split up before releasing their first album. Lead singer Ciaran McFeeley was to pop up again as Simple Kid who we will definitely mention at some time in the future.  Cork gave us a load of acts like Sultans of Ping FC and The Frank and Walters whose quirky humour unfairly led to them being misled as novelty acts. The video isn't great quality, the song isn't even on Spotify, but I think it's up there as one of the lost, great,  fun Irish songs.
I love you Sadie – Wyvern Lingo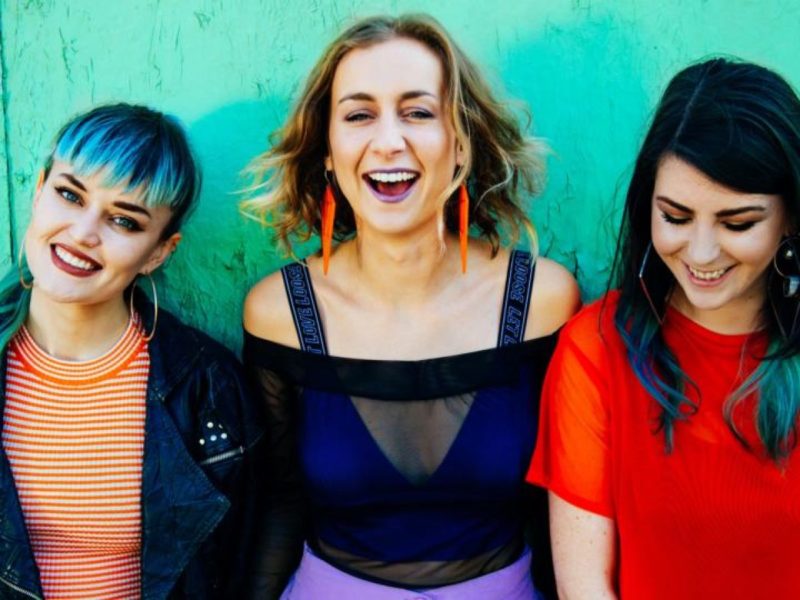 Caoimhe Barry, Karen Cowley and Saoirse Duane have been in the music business for a while. Before their highly rated 2018 debut album , they released an EP four years earlier and worked with fellow Bray person (Brayite? Brayer?) Hozier.  I must confess they are very new to me. As you get older it's easy to dismiss new trends and genres or automatically turn the radio off when someone refers to an event as back in the day, that you can remember like it was last Tuesday. Yet we are the ones missing out.
The girls are childhood friends R 'n B fans who originally bonded over Led Zeppelin and Joni Mitchel, the Bray Trio ooze talent, confidence and class.  I for one am glad I put my snobbery aside and learned the lingo.
You might also enjoy.
Coinleach Ghlas An Fhomair – Clannad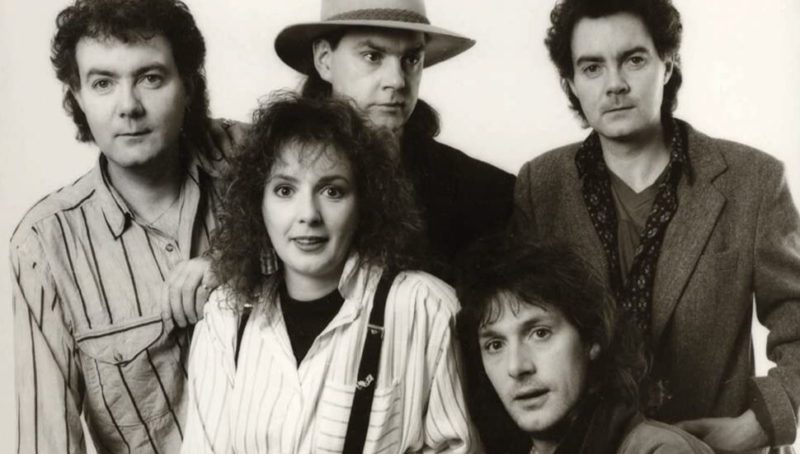 Clannad have been part of my life for as long as I can remember. Relations of my father, their music was something I was always aware of. It wasn't a case of like or not like it was just there. Ciarán, Pól and Máire Brennan and their twin uncles Noel & Padraig Dugan formed the band in the early 70s in the family pub in Gaoth Dobhair a Gaelic speaking area of Donegal. From a gifted musical family, they sing in both English and Irish (Gaelic). Máire changed her name to Moya to match the phonetic pronunciation of the distinctive Donegal blás or patois they speak. Her sister who was briefly part of the band too also changed hers to the more anglo friendly Enya. She did quite well too 😊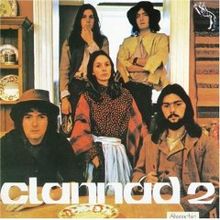 Clannad were successful on the folk / traditional scene but in 1982 they made their crossover to the mainstream. Their soundtrack to Harry's Game, ground-breaking drama about the troubles went to number 5 in the UK charts (at a time when you had to sell a lot of records to get in the top 10). The Theme from Harry's Game may have been accepted by the record buying public, but it was definitely the mainstream coming to them rather than the other way around. The song was sung in Irish with a sort of non-lexical chorus (Yes, I had to look up that phrase). Still it was a signal of things to come as they started to combine their traditional music heritage with keyboards and other influences to create a sound, I suppose we would now call new age. Very successful soundtrack work for the Robin of Sherwood, Patriot Games and The Last of the Mohicans followed. They toured the world extensively and released many records, both folk and some pop hits including a duet with Bono.  The road took its toll as it is wont to do. Pól left for a brief hiatus (21 years). There were solo records and a hiatus from recording or performing as a group. They reformed and released an album of new music in 2013. Sadly, Padraig died in 2016 but in 2019 they announced an epic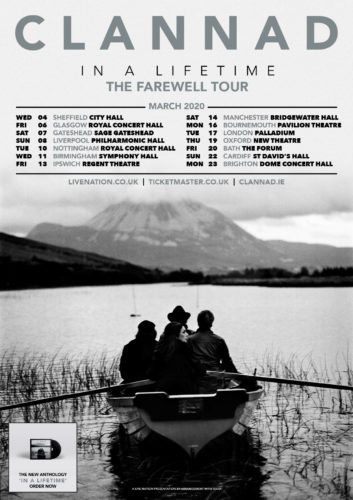 farewell tour throughout Europe and the world. Covid has inevitably put this on hold for the moment so there is still a chance to get out and see these hugely influential musicians. In fact, such is their legacy that James Horner admitted that they completely inspired his soundtrack to Titanic.
We are breaking the rules and including three songs instead.
The first is Coinleach Ghlas An Fhomair. A traditional air from Clannad 2 that my brother used to always play in our house. Despite being a rock music fan who turned me on to the likes of Rush and Def Leppard, he loved this tune and its distinctive guitar. Actually, thinking of it now, there is no way Neil Peart and his peers in Prog Rock didn't listen to a Clannad album or two in their writing of mystical epics.  It is a beautiful love song roughly the green fields of Autumn  (or Fall if you prefer) and proof positive that you don't always have to understand they lyrics to feel the sentiment.
This is also backed up with my second choice, the aforementioned Theme from Harry's Game.  Finally, possibly the most commercial song they ever had. In a lifetime their collaboration with Bono is regularly voted among the greatest Irish songs of all time. This despite the fact I was supposed to be in the video, but the organisers changed their mind. I'll get over this someday soon. It's only been thirty-four years after all. In the timeless scale of Clannad's music, that's hardly a blink of an eye.
You might also enjoy
You might also enjoy
Tupelo Honey – Van Morrison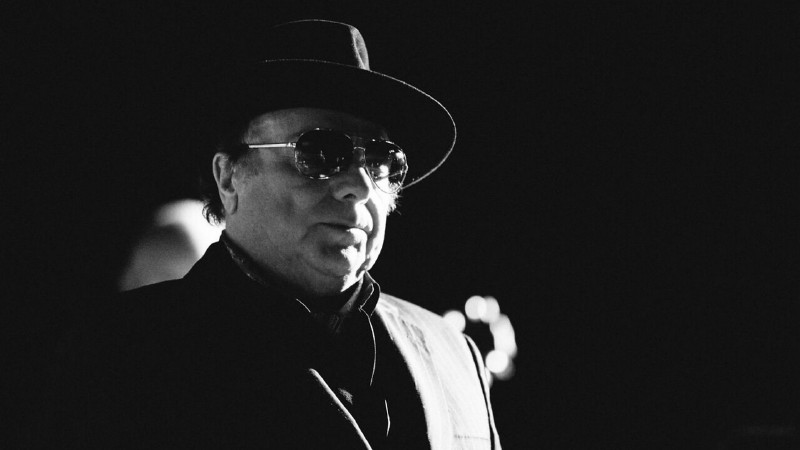 To those who know Van Morrison, this is probably the equivalent of picking "I still haven't found what I'm looking for" Not the most clichéd choice but not far off. But until a few years ago I had never heard it. Van to me was the guy who did Brown Eyed Girl, Moondance & Gloria, excellent songs, murdered by overplay on radio and by poor quality pub singers. Yeah I know Bono and his ilk worship Astral Weeks but I never got it.  (I also knew the Christian duet he did with one man Wimbledon flash mob , veteran British pop star Cliff Richard.) But I was more Van Halen than Van Morrison.
Until that is, I heard a programme by legendary Irish broadcaster Dave Fanning. The essence of the programme was you think you don't like Van Morrison, but you do. He played songs I vaguely knew but didn't know who sang it like It stoned me & Jackie Wilson Said and tunes I didn't know but should have like Caravan, Into the Mystic and this. (Yes at this point I'd never seen the last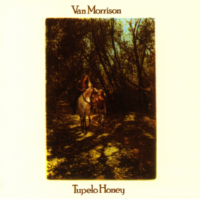 waltz either) Dave's thesis worked in my case anyway and I started listening to a lot of Morrison from then on.  There are much bigger Van fans than I (I have only seen him once at a charity concert for example) but I learned to really appreciate what an interesting and influential artist he was.
Amusingly album Tupelo Honey is not really rated by Van and his fans because its too likeable and smooth. That is according to Wikipedia so take that with a pinch of salt, but I like the idea of the famously curmudgeonly Van taking against it for that reason. The song however has often featured in his live set – and considering what a catalogue he has; it shows he must enjoy it too. But I love this sweet slice of southern soul by the gruff man from the North and if like me you were a non-believer, this might be a great place to start. An if it's too sticky, why not try classic live highlight Caravan instead.
You might also enjoy