Welcome to the Irish Movie Blog
Hi everyone it's Collie here.  And hello to the ISAI Irish movie blog* A quick introduction: Recently I was preparing for the movie review segment I do on
Ocean Fm
and I sent a message out to some friends on social media. It was the first week of the lockdown and we had decided to do an Irish movie special. I asked my pals for their favorite Irish movie -but to avoid 'obvious' candidates. One of the things that surprised me the most (other than I have friends with weird tastes) is how many of my US based friends suggested movies like
Boondock Saints
,
Leap Year
,
The Departed
,
Matchmaker
, and
Gangs of New York
.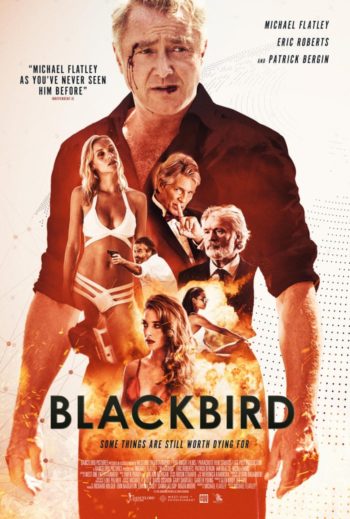 I would never have considered a single one of them as Irish movies. Admittedly only two of them are actually set in Ireland but it's not just their settings. I have no problem with considering
In America
an Irish movie. In fact, I often include
The Favourite
(filmed and set in England, by a Greek director) and
The Breadwinner
(set in Afghanistan) in my Irish movies list. So, what makes a movie Irish? Much of
Braveheart
and
Saving Private Ryan
were filmed in Ireland but nobody thinks of them as Irish.
Riverdance
burst onto the global scene but its leads were American dancers. (I promise you if Michael Flatley's self-financed movie
Blackbird
ever sees the light of day we'll definitely do a blog). I think, much like people, a movie is probably Irish if it wants to be. But I do feel that a while there is a huge shared culture, humor and history, there are also interesting and enjoyable differences in the movies and TV shows appreciated by the Irish and the Irish Americans.
Ray Donovan
we're looking at you. The radio show went very well with many good suggestions.  However the idea of all these different opinions on what makes an Irish movie, and more importantly, what makes a good Irish movie, lingered. When discussing with Niamh , she suggested doing a few blog posts about some Irish movies. Some gems you might have missed, some beloved movies to revisit and just for fun, maybe the odd stinker. So in no particular order here we go. *(And Jason Issacs of course)
ISAI goes to the movies recommendation #1
Grabbers
Grabbers
is like a family inside joke. A movie whose central plot revolves around a load of Donegal people being spectacularly drunk? It's ok for us to make it but someone else had made it, they would be in for a
Paddington style hard stare
. However, this is a gem of horror comedy that punches far above its weight and its meagre budget.
Spoiler Free Synopsis
Garda Lisa Nolan (Ruth Bradley) travels to provide holiday relief to permanently sozzled colleague Garda Ciarán O'Shea (Richard Coyle, from the chilling adventures of
Sabrina
doing a fine Irish accent). While there, however it becomes clear that they are cut off from the mainland and under attack by man-eating monsters. This alien menace seems undefeatable with an insatiable appetite. Until, that it, our heroes with the help of Russel Tovey's boffin,  discover that the monster's Achilles' heel is alcohol. Our rubbery monsters can't abide booze, or the taste of any human who's been imbibing. Can the gang remain blotto enough to save the day?
Is it any good?
One of the joys of comedy horror is the fun you can have with clichés and tropes- and clichés abound here. Bradley's uptight teetotal Lisa, and Coyle's shambolic but heroic O'Shea would be boring stereotypes in a drama, but there are great foils in the island's eccentric group of characters. Add to this Tovey (
Years and Years
,
Him and Her
,
Being Human
) really enjoying himself, chewing the scenery. And what scenery it is, with Rathlin Island and
Innishowen
standing in for the fictional Errin Island.  The SFX aren't spectacular but the charm and genuine odd scare more than make up for them, and for movie fans there are loads of nods to classics such as
Alien
and
Jaws.
As of March 2020, it's streaming in the U.S. on
Hulu
and available for rent or purchase on loads of platforms. Definitely one to wrap your tentacles around.
You might like this if you enjoyed: Shaun of the Dead, Lake Placid, Tremors
ISAI goes to the movies recommendation #2
Jimmy's Hall
Quite the change of pace for our second movie choice.  I was pondering the blog today while out for my allotted stroll. The podcast I was listening to dealt with Bernie Sanders' decision to bow out of the race for President of the USA.  The combination of the scenery, and discussion of socialist politics, brought to mind the movie
Jimmy's Hall
(2014). It is the true tale of
Jimmy Gralton,
the only Irish citizen ever deported from Ireland, and was filmed on location right beside us here in the counties of Leitrim and Sligo. I think it's an interesting movie and one that may have passed you by.
Spoiler Free Synopsis
Leitrim-born Jimmy returns to Ireland after years of exile in the USA. His mother and many friends are delighted to see him back -but Catholic priest Father Sheridan and the local authorities less so. The reason? This is Ireland in 1932 and Jimmy is a known socialist, to be treated with fear and suspicion. When he reopens the village hall for signing dancing and drama, this proves a step too far.
Will it make me sing the Internationale?
Anyone who knows the work of Ken Loach and writer Paul Lafferty will know where the movie's  sympathies lie. The last time the duo worked on an Irish movie it was the excellent
"The Wind That Shakes the Barley"
. Although Jimmy's Hall also deals with the fallout from the War of Independence, it is much lighter fare than their previous effort. For all it's rebellious spirit and progressive DNA,
Jimmy's Hall
is a nostalgic, charming and warm affair too. Some critics bemoaned that the characters debated rather than talked. To that I would say – of course they do, it's Ken Loach. The accusations that it's the
Quiet Man
meets
Footloose
are less fair. But quite funny all the same. It stars Barry Ward as Jimmy, who we'll meet again when we review
Extra Ordinary
. The ubiquitous Andrew Scott plays a somewhat less hot priest than he did in
Fleabag
and you may also recognize Aisling Franciosi (
The Fall, The Nightingale
). Of all
Loach's films
it's more entertaining than essential. However, it's well worth a watch, especially for those in search of an Irish story you haven't heard before. On date of writing it's available for rent from Apple, Amazon and YouTube among others.
You might like this if you enjoyed: The Wind That Shakes the Barley,  I, Daniel Blake
Next we are going to look at  have two thrillers that have their roots more in genre film-making than in Irishness but brilliantly use their historical Irish setting to evoke panic, confusion and alienation in the first and betrayal, cruelty and retribution in the second.
ISAI  goes to the movies recommendation #3
'71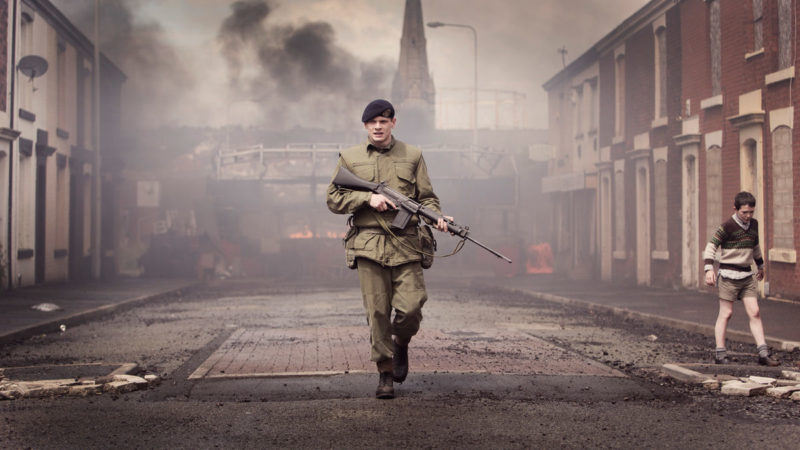 Spoiler Free Synopsis
This movie finds young British soldier Gary Cook, played by Jack O Connell (
Starred Up, The North Water
), who is posted to Belfast in 1971, the tour of duty that nobody wants. On what is his first manoeuvre outside the barracks, he is cut off from his unit. He finds himself lost, injured and alone in an alien landscape where friend and foe look the same. If this sounds like a familiar story, well that's because it is –
The Eagle
,
Black Hawk Down
,
The Warriors
even
1917
to name a few, have had this narrative at the heart of their movies.
Will it explain The Troubles to me ?
No.
'71
is first and foremost a tense genre movie. A manhunt that isn't heavy on the history. However, I think  O'Connell's lost squaddie shows how so often the foot soldiers were poorly educated, inexperienced young men thrust into a situation of which they little understood. Plucked from the projects and trained to kill, but not to ask why. Belfast, Vietnam, Iraq – the lessons are never learnt. Gary hasn't a clue why The Troubles are happening. All he knows is that all the Irish hate the British and that they can't be trusted. Because that's what he's been told. Yet here he is, in the belly of the beast, with no plan, no phone, no friends. He'd better learn fast, or he has no hope.
You might like this if you enjoyed: Centurion, The Warriors
ISAI goes to the movies recommendation #4
Black 47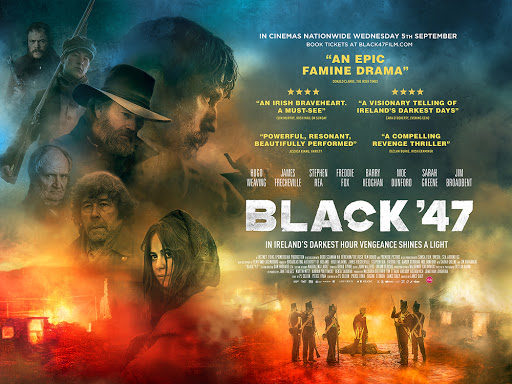 Black 47
is not about The Famine. Well it is of course about The Famine, but instead of being about the injustice or the tragedy, it is revenge thriller following the clichés of the genre. In some ways it has as much in common with
Get Carter, Old Boy,
or
Unforgiven
as it does with
Angela's Ashes
. It is a wild Atlantic western.
Spoiler free synopsis
It stars James Frecheville (
Animal Kingdom
) as Feeney, an Irish Ranger who is fighting for the crown in Afghanistan and India. On hearing of the calamity commonly referred to as 'The Famine'  befalling his native land, he deserts and returns to see what has become of his family. He finds a people abandoned by the very powers that he has been fighting for, left vulnerable to cruel bailiffs, indifferent landlords and traitorous profiteers. You can see the similarities to
First Blood's
protagonist John Rambo. A warrior who has been fighting the wrong wars while his own people needed help. Echoes of other movies may well occur to you too as you watch. This is not a criticism, at least not by me. You will not learn anything new
about the famine. Some critics found it one-sided, portraying the authorities as indifferent or cruel. It is and they were. Criticisms of the lack of portrayal of women are much fairer. Others found the movie derivative. However, I found it exciting to see such a movie, one that follows the tropes of the genre, using the open sore of the Great Hunger to evoke pain and anger. It provokes us, so when Feeney wreaks his revenge, we are sympathetic but also complicit. I found myself punching the air in one scene where the Irish language in invoked to dispense justice. I felt a little sheepish at my Pavlovian reaction. Yet at the end there is certainly a suggestion of the futility of vengeance-that Ireland must choose between a future of hope or endless retribution.
Does it go all 'Fields of Athenry' ?
It is well cast and directed. Hugo Weaving, Jim Broadbent and Stephen Rea bring the gravitas. Freddie Fox plays the arrogant British officer in pursuit' espousing the sort of opinions his real-life cousin Laurence would on British TV a few months later. But it is James Frecheville who catches the eye. A native Australian, he learned Irish phonetically to take the role. It can't have been an easy gig (he described it as a very cold shoot) As the movie progresses, he seems to become more and more at one with the land. A silent personification of the countryside, Ireland not as
Dark Rosaleen
but as the dark avenger. A Celtic Golem righting wrongs. (There is a Glenn golem kill joke that there that I'm not going to touch. ) Black 47 will not be everyone's cup of tea (and there is some quite poor CGI for a few backgrounds) but it is promising to see Irish movies like this being made, and I, for one, can't wait to see what Lance Daly does next.
You might like this if you enjoyed: Dead Mans Shoes, The Crow
ISAI  goes to the movies recommendation #5
The Last Right
Spoiler Free Synopsis
The Last Right
is a charming Irish road movie by writer director Aoife Crehan. Michel Huisman (
Game of Thrones, Nashville
) is Daniel Murphy, an Irish-American who returns to Cork following the death of his mother, to be reunited with his estranged autistic brother Louis (Samuel Bottomley,
Wolf Hall
). Due to some fairly convoluted circumstances, they have to undertake (pun totally intended) a journey across Ireland to bring a body to Northern Ireland in time for a funeral.
Isn't this just Rain Man?
When I first saw the trailer, I was unsure if this would be for me. The circumstances where Daniel ends up responsible for a strangers coffin look pretty unbelievable. Two estranged brothers, one of whom is autistic, on a road trip just makes you think
Rain Man
, right? And Ireland is
just too small for a road trip movie. I mean, have no lessons been learned since
Leap Year
? The
Rain Man
elephant in the room is quickly addressed and then forgotten. There is a good idea to solve the 'Ireland is too small for a road trip' conundrum. The ludicrous McGuffin that drags Daniel, Louis and funeral home assistant Mary, across the country and provides the deadline is not particularly interesting and frankly doesn't matter.
Does the road movie rise up to meet me ?
The joy to be found in this movie is not in the plot. That's just a device to assemble our unlikely trio. Then we can get on to what does matter. The relationship between the trio and the ghosts of the past. This is what Aoife Crehan wants to explore and despite my initial hesitation, what I wanted to learn about. The corniest of road movie clichés that it is always about "the journey not the destination" but that doesn't make it any less effective. Mary, played by Niamh Algar (
The Virtues
), is a great foil to the estranged brothers. Dutch actor Huisman's slightly odd accent probably suits his character. It is Samuel Bottomley's Louis that steals the show. Funny, sympathetic occasionally infuriating, he portrays Louis's autism as part of who he is not, what he is. I found it an engaging tale with excellent performances. Sure, the revelations on the road trip may not be that surprising but I think that's because the well written storytelling had provided the signposts along the way. At time of writing, this movie is already readily available in Europe but was just due for release in the US as the lockdown started so you may have to look around for it. I think you will find it worth the search.
You might like this if you enjoyed: Rain Man, Local Hero
Although we always try to look up and not down occasionally, we must confront the truth.
So here is the first in the very occasional sub-blog
Leap Year
When reviewing The Last Right, I realized I had never actually seen all of Leap Year. But I had still made an unfavorable comparison between it and the last right. Perhaps I was being unfair. After all as
Mark Kermode
always says "you cannot judge a movie without having seen it". It might be amazing. So, I watched it. All cards on the table I did go in with preconceptions. I thought this is going to be really quite annoying from an Irish point of view. However, i reckoned it probably was a quite sweet and romantic movie, that works if you ignore the patronizing view of Ireland. I was half right.
I have some questions.
Could they not find a map of Ireland?
Clearly it was filmed on location so how is it that they didn't meet a single Irish person they could base even just one realistic character on
If they couldn't find an Irish actor for the role (Fassbender is actually from this area for Pete's sake) could they not have found one of the many thousands of British actors who can actually do an Irish accent
Was the aim to skirt any accusations of outdated sexist attitudes by portraying  a low opinion of both men and women? (Although fair play to you , you still managed the sexism )
Was there a special Oscar that year for most outdated stereotype in a movie that the producers had their eye on?
How did nobody on set take Mathew Goode aside and explain "that's not how you say Fionn Mac Cumhaill"? They could have just tried Finn McCool, I would have been happy with that. If they can say it right,  here…why not a guy from Kerry ?
Who has an outdoor wedding in Tipperary in February? Or at any time of the year for that matter.
Could the non-linear time travelling aliens in Arrival not warned Amy Adams about this?
Look I am sure nobody meant to make a bad movie it just didn't come out like they hoped. But why over 2 hours long? Toy Story, This is Spinal Tap and High Noon are all an hour shorter!
It was the first time I have ever watched an Irish based movie hoping for some leprechauns or a talking potato to turn up to raise the intellectual content. Once every four years is far too often for this movie. Mind you, it is still at least five times less insulting than
Tommy Lee Jones's character in Blown Away
.
ISAI  goes to the movies recommendation
#6
The Siege of Jadotville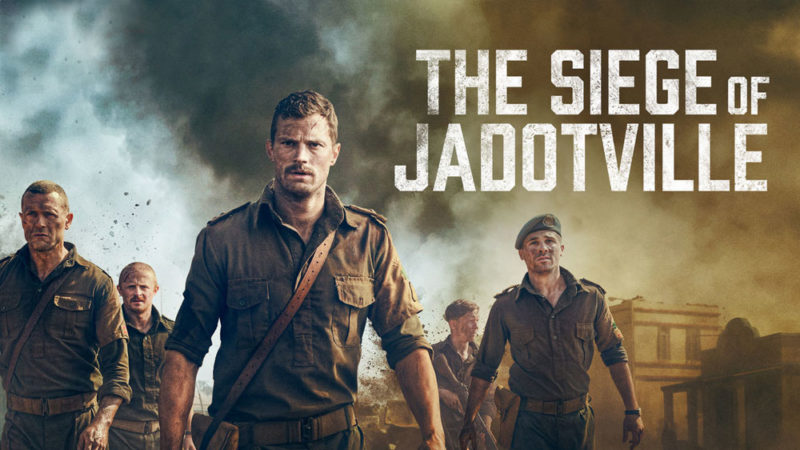 There is quite a contrast between the attitude to military service in America, and in Ireland. It is not that we don't support our boys and girls in green, we do. Ireland's reputation for neutrality and fairness mean they are often asked to help keep the peace in some of the world's worst trouble spots. Something which is a source of pride to most of us. But there is not the same reverence.  And what support there is tends to be for the soldiers & sailors themselves, more so than for the institutions. Perhaps it is a legacy of our colonization, but where there is pomp and circumstance, the Irish instinct is always to poke fun rather than salute. This may be why, even though Ireland's small but healthy film industry has plenty of dramas, comedies, horrors and musicals, war movies are few and far between. It could be argued that we've made more westerns. So, when Netflix announced they were releasing a movie starring Jamie Dornan, based around the real-life experiences of the
Irish Army in the Congo
in the 60s, I was a little surprised. The experience of the Irish at Jadotville was quite the scandal at the time but had long since faded from the memory of the public. And it's probably fair to say, most of those who knew about it, had never heard the real story.
Spoiler Free Synopsis
The Congo, 1961. Due to escalating tensions in the area, the UN sends in a company of Irish peacekeepers into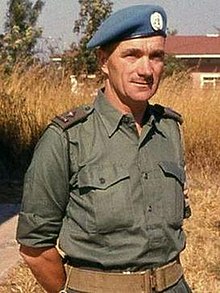 the province of Katanga. They are to hold the town of Jadotville at all costs. The local warlord recruits 1,000 French mercenaries, ostensibly to protect the mines in the area. However, after the UN goes on the offensive, the mercenaries are unleashed on the isolated Irish soldiers. The UN hierarchy in the region, led by Irishman
Conor Cruise O Brien
seem unable or unwilling to send reinforcements to help the beleaguered Irish company dug in at Jadotville
Mission accomplished?
You always know a movie has worked when you find yourself going straight to Wikipedia to learn more about the people and events. I vaguely remembered Conor Cruise O' Brien as a politician and social commentator, but before I had interest in such things, so had no idea of
the part he played in this, or how he may have shaped Irish foreign policy. Mark Strong is an interesting choice for this role. He is always a fine addition to any movie, but I wasn't sure about the accent. I thought it jarred slightly. However, O' Brien's obituary notes how his private school education had given him an accent, and reports that this made him an outlier compared to his peers in Ireland. Maybe it one of those cases when the actor gets it too right. More surprising to me was the performance of Jamie Dornan, who is at his best. Admittedly as the only other things I saw him star in were
Fifty Shades, Robin Hood
and
Trolls World Tour
, so that is quite a low bar. Still, I thought he was compelling as the thoughtful, noble Commandant Pat Quinlan. He is an expert in military strategy but has very little combat experience, which leads some of his own men to doubt him, and his opponents to underestimate him.  Jason O'Meara and the rest of the Irish cast including the real Patrick Quinlan's nephew, Conor ,make a likable band of brothers.
Guillaume Canet
enjoys himself as Rene Faulques, the legendary mercenary. It is hard to discuss much more without verging into spoiler territory, but Director Richie Smyth, and screenwriter Kevin Brodbin do an excellent job of shining a light on this corner of Irish military history. And if the overall story of
lions led by donkeys
seems a little bit of a movie cliché, I think a quick chat with soldiers anywhere would assure you t'was ever so.
You might like this if you enjoyed: Lone Survivor, Zulu
ISAI goes to the movies recommendation
#7
Handsome devil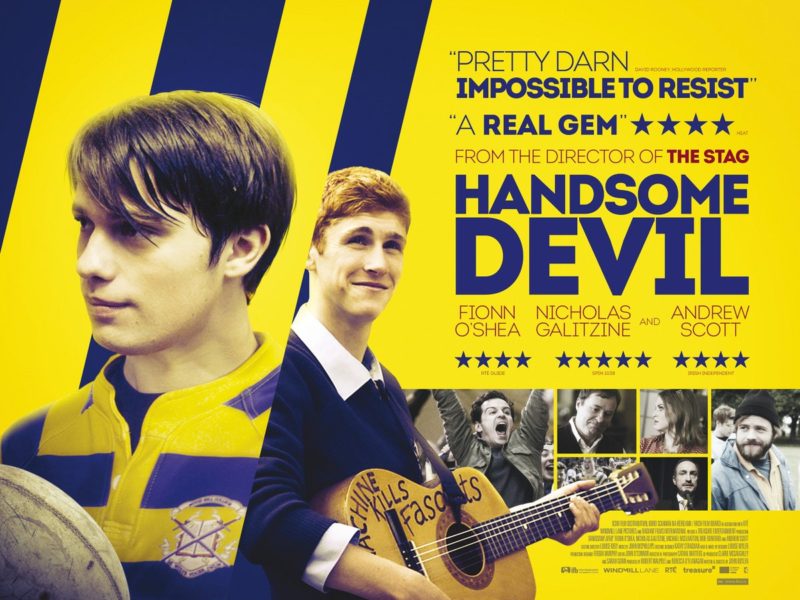 We've talked about a few lovely films here, and I'm trying not to use the words 'charming' or 'heartwarming' to describe every one of them. Yet
Handsome Devil
by writer/director John Butler brings exactly those words to mind. It's a coming of age movie, (we like those here in Ireland), staring Fionn O'Shea (whose also in the siege of Jadotville), as Ned. British actor Nicholas Galitzine does a good posh Irish accent as Conor, and Andrew Scott is in his element swapping
hot priest
for inspirational teacher.
Spoiler Free Synopsis
Ned is a music-obsessed misfit, who is made to change schools to attend an upper-class boarding school, where he sticks out like a sore digit. His roommate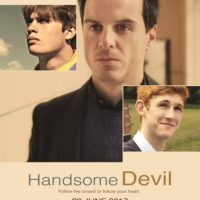 Conor is the polar opposite. He is a popular and gifted sportsman, who seems destined for greatness.  The loner and
the star athlete at this rugby-mad school form an unlikely friendship. At least, until others start to pay attention.
Will it catch my eye?
I think
Handsome Devil
suffered a little from coming out around the same time as
Sing Street
. The initial plot is the same; boy forced to change school/ is a fish out of water/forms an unlikely friendship defying school authorities. In
Sing Street
it is middle class boy changes to working class school and clashes with school principal. In
Handsome Devil
, middle class boy goes to upper class school and is subjected to homophobic abuse from the sports department.
Sing Street
was a big hit here in Ireland and I think when
Handsome Devil
followed in its wake, some unfairly dismissed it as just another high school movie. And while
Sing Street
is undoubtedly the superior movie, there still tonnes of fun to be had with
Handsome Devil
. Our two leads are engaging, likable, and mildly infuriating, as teens can be. Scott exudes charm and wisdom as the sarcastic but empathetic teacher. It does have to be said that if we were to show this to a race of subterranean mole people , who had never been exposed to the human race, about 20 minutes in they'd say " Oh right, what's going to happen is…" But it doesn't matter. It's not a movie to keep you guessing, it's a movie to keep you feeling. And when that thing happens, that you knew was going to happen, it will still hit you right in the feels, nonetheless.
You might like this if you enjoyed: Sing Street, Love Simon
ISAI  goes to the movies recommendation
#8
A Date for Mad Mary
(and a bit of Wild Rose)
You wait for ages for a movie about a red-haired Irish woman just out of prison, and two come along at once. Well that's not quite true.
Wild Rose
stars rising Irish star Jessie Buckley, but it is a Scottish movie. And there was two years between the making of it and
A Date for Mad Mary
. It just happens that I saw them at the same time. They are actually very different movies. However, the similarities in the opening act and the fact I absolutely love the performances of both the leads, made me decide to bend the rules and mention both movies.
Spoiler Free Synopsis
After a short spell in prison "Mad" Mary can't wait to get back to her life.  The thoughts of reuniting with her best friend Charlene kept her
going during her time in the cooler. She just wants to get back to how it was in the old days, even though Charlene is about to get married. However, she finds that everyone has moved on while she was cooling her heels in
Mountjoy Jail
. To add insult to injury, even though she is still the maid of honor, they haven't bothered giving her a plus one. After all who would want to go with "Mad" Mary?
Will there be a second date?
When I first heard about this movie, I thought it sounded like a low rent Muriel's wedding rip off ,with less Abba and more cans of
Bulmers
. But I found an awful lot to enjoy in this indie film. It started life as a play titled
10 dates for Mad Mary
by Yasmine Akram. The movie was then adapted and directed by the play's original director Darren Thornton, with his brother Colin. Séanna Kerslake's  (T
he Hole in the Ground
) portrayal of Mary is sensitive, thoughtful and nuanced. Sure, she is volatile and obnoxious at times, but we understand that this is due to her fear and insecurity. Her fear of being mocked or patronized makes her lash out. In my experience, people who loudly trumpet that they don't give a damn what other people think, are those consumed with worry or rage about what other people think. The beauty of this movie is that all these conflicting emotions are shown through performance rather than being spelled out for us. A scene where Mary meets someone she has hurt doesn't need exposition or sentimental music to tell us how to feel. Kerslake's eyes and the fear on her victim's face tell us what we need to know. It is not perfect. It is a very low budget movie, so it creaks in a few places.  The vulgar language won't be for everyone. Although as someone who has been to quite a few pubs in Drogheda, it struck me as authentic.  Incidentally,  two of my dearest friends Conor & Colette live there now. I called Colette to ask her has she seen the movie. "Of course, I did" She said, "doesn't my cousin play the bride?". That's Ireland for you. It is true though, that a quick look at IMDB shows that whatever about the choice vocabulary, a lot of people in the US struggled with the accent. It might be one for closed captions,at least on first watch.
Wild Rose
A quick mention for
Wild Rose
seeing as I made the comparison. I was unsure whether to bring it up when talking about
Mad Mary
as the comparison isn't totally accurate.
Wild Rose,
though a small movie by Hollywood standards, is big budget compared to
Mad Mary
and it's not an Irish movie, it just has an Irish star. Yet the Scots are our spiritual cousins and it is a tremendous movie that also deserves to be seen. Jessie Buckley is Rose-Lynn, a country music obsessed Glaswegian ex-con whose plan is to get to Nashville and become a famous singer. However, her real life keeps getting in the way. This is funny and tender and features a
barnstorming performance by Buckley
who's a fabulously talented singer. Going
by the Osmond scale on music
, I'm definitely a little bit more Rock n Roll, but anyone who isn't stopped dead by her performance of P
eace in this House
doesn't really get music or movies. Although both movies start in the same way, they are very different tales both very enjoyable. 
Mad Mary
is a tentative first date over a pizza and
Wild Rose
is more of a trip to a club.  So, depending on your mood, give both of these a try. I promise you'll want to get their number afterwards.
You might like this if you enjoyed: My Big Fat Diary
ISAI  goes to the movies recommendation
#9
London Irish
Last year, when you could do such things, myself and some friends went to see a gig in Dublin for my birthday. Nothing unusual there, we go to a lot of gigs. This was slightly different though. I had only heard a couple of songs and my pals had never heard of the band at all. The band were
Bodega, a great punky art band from New York
who were playing their first Irish show in
Whelan's a legendary Irish music venue
. Chatting in the pub afterwards, everyone had enjoyed the concert, even if I will never agree
that this machine doesn't kill fascists.
Still, we all had a sense that we were watching something embryonic. That
Bodega
, good though they were, were still very much finding out who they were. Or perhaps they know who they are, but not yet exactly how to express it. They even alluded to this themselves, inviting the audience to have a drink afterwards and give them pointers! This rambling tangent occurred to me while watching London Irish, a TV sitcom written by
Derry Girls
creator Lisa McGee in 2013 which is now streaming on Amazon in the US and Ireland. Despite being a limited series – just one season of 6 short episodes – rather than a movie, I decided to point you in the direction of this show. It definitely isn't for everyone but there's a riotous good time for the those who are feeling brave.
Spoiler Free Synopsis
follows the antics of four 20-somethings from Northern Ireland, freed of their small-town shackles and unleashed in London. They are up for anything, "for the craic" but their debaucherous antics, and ability to always make the wrong choice, always end in disaster. Here's the synopsis for a typical booze-fueled episode. It's the morning after the night before… a wedding party. Bronagh wakes up wearing the bride's wedding dress, while Packy wakes up next to his crazy ex-girlfriend Steph. Conor did something bad, but he can't for the life of him remember what. And when the gang hear that Dermot (a man they all hated) has died, Packy is determined to attend his wake because he's got his eye on the grieving girlfriend.
London – Derry Girls ?
As I implied earlier,
London Irish
strikes me as a warm-up for
Derry Girls
. This is not to imply that Lisa McGee didn't already know what she was doing, she was already a fabulous writer, working on the excellent low budget TV SciFi show "
Being Human
" among other projects. Apparently,
London Irish
was inspired by her English producer meeting her and her friends on a big night out. Write about what you know is always the authors mantra. And the experience of going a bit off the rails the first time you leave your parents / go to college / emigrate is universal. And it is very funny. Outrageous, irreverent, libidinous and featuring a herculean intake of alcohol, you can't help but be swept up with their increasingly ludicrous antics. One of the characters while discussing their latest sexual conquests wonders is there is swinging back in Ireland. "Sure you couldn't have orgies at home, you'd know everyone!" The cast are excellent, and you will recognize plenty of them. Kerr Logan was in
Game of Thrones
, Peter Campion is Father Peter in
Derry Girls
and there are guest appearances from Josh O Connor (Prince Charles in the Crown, Phoebe Waller-Bridge (
Fleabag
) and Siobhán McSweeney (Sister Michael in
Derry Girls
).
The gang emigrates to London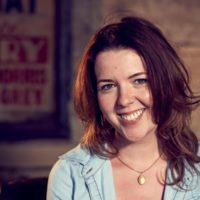 Some of the set pieces and characters will be familiar but I don't think this is McGee repeating herself. Instead she is revisiting rich mines of Irish humour (weddings, funerals, rock the boat) that seem to have universal appeal. But it is much more in the spirit of
It is Always Sunny in Philadelphia
then
Derry Girls
.  Niamh, Packy, Bronagh and Conor are tonnes of fun to watch, but you wouldn't actually want to be part of their life. They are obnoxious and selfish and always leave a trail of destruction in their wake. And their language would make the occupants of Paddy's bar blush. Including a liberal use of that word. Yep, that one. There is none of the sweetness and camaraderie of
Derry Girls
. At the end of the day you know that Erin, Clare, Michelle , Orla and indeed James will always come good in the end, no matter how much they fight. The
London Irish
gang would sell you out for one more beer at last call. This is intentional of course but I think this what makes one show a fun, scabrous romp, rather than an instant classic.
Derry Girls
are your childhood friends who will always be part of your life, no matter where you are.
London Irish
are the people you partied with in college, that you hope your children never find out about.
You might like this if you enjoy: Catastrophe, Always sunny or Derry Girls